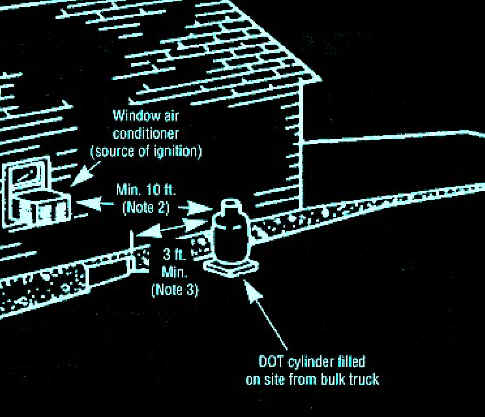 REFERENCE NFPA 58, 1998
NOTE 1: Cylinder should be located a minimum of 3 feet away from Crawl Space, foundation vent, window or door opennings.
NOTE 2: If DOT cylinder is filled on site from a bulk truck, the filling connection and vent valve must be at least 10 feet from any exterior source of ignition, openings into direct-vent appliances or mechanical ventilation air intakes.
NOTE 3: Tank should be within 85 feet of Fill Truck for hose to reach.
Copyright 2002 by Web Point Design
www.GasLogPro.com

[home][fireplaces][fireboxes][mantels][marble][chiminea][free-remote][specials][gaslogs][monessen][stoves][GasLogPro][blueberry-farm][heating-contractor]