G as Chimenea Gallery

(Outdoor and indoor models perfect for the patio or all season room)
Also see Vanguard Clay Chimenea
with big big 55,000 btu flame
click picture at right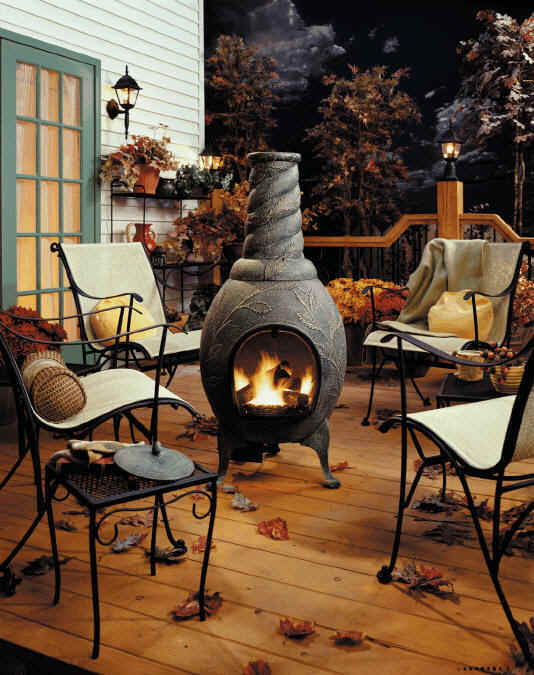 Outdoor Products from Empire Comfort Systems

Includes Propane or Natural Gas Burner and Cast Iron Log set
(NOTE THIS IS NOT FOR WOOD BURNING )

A Superb Addition to Any Home, SUPERB'S Cast Aluminum and Iron Chimen

e

a will now extend the warmth of your home to your patio or deck.

You and your guest will be drawn to the warmth and charm of an outdoor fire that will add months to your outdoor entertaining season.

The Propane or Natural gas burners allow you to confidently entertain without tending a real wood fire or being concerned about sparks.

Featuring a rugged cast aluminum body and cast iron burner with realistic gas logs, the Superb Chimenea is built to last. The safety screen and removable lid keep leaves and debris from collecting inside so the fire is ready to start with a push of a BUTTON ( piezo igniter). The variable, manual control adjusts the flame height from low ( 27,000 Btu/LP) to high (32,000 Btu/LP)

The Chimenea is available in two heat-resistant, antiqued paint finishes with an intricate grape leaf design to accent your outdoor decor. An optional propane tank cover is available.