Four Seasons Supply the Gas Log Pro can supply you with quality Vent Free and Vented Gas Log products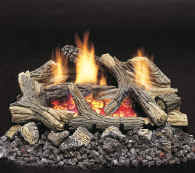 from Monessen, Martin, Empire, Vanguard and others Ask to see the new Model DEB Emberblaze Gas Logs from Monessen. You want believe they are Vent - Free and you want have to keep replacing those messy mineral wool embers. Visit us in Winston Salem, near Old Town, Clemmons, King, Greensboro, Highpoint, North Carolina
Read about the Safety Design Features of Vent Free Gas Logs like the ODS Pilot Systems. You can get just the look you want with
bright Yellow Fame logs like the Monessen GLY Series
If your like the Soothing glowing ember look of a fire that has been burning all day you you will not only find it here but you will be surprised to see how much the radiant embers feel like a real wood fire.
If you want to review full product specifications and clearances of gas log and see them view our gallery and specifications on this site.
If you want to actually see them burn give me a call to set up a visit.
Remember we are not only a gas log and fireplace dealer. We have been serving the Winston Salem area as a Heating and Air Conditioning Contractor for over 30 years. You can be assured you will get the most important service you need, competent service and installation from us.